Tea has been used medically for centuries, and recent studies are helping to prove the health benefits of different teas.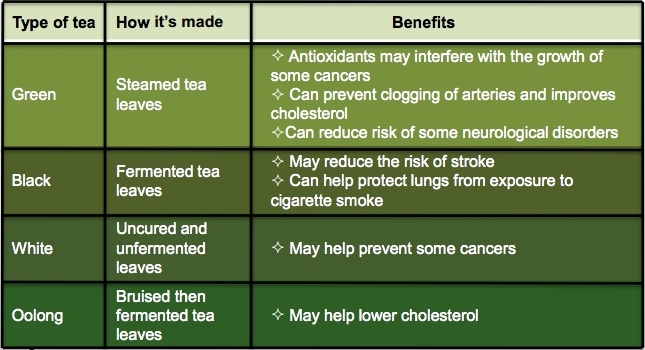 All four types of tea contain polyphenols, which are antioxidants that can help protect DNA from damage and prevent some diseases. Green tea is known for having the highest concentration of these antioxidants.
Herbal Tea
Herbal tea is made from tea leafs with herbs, roots, fruits, or seeds so it is not technically considered tea. Some examples include ginger, hibiscus, jasmine, chamomile, and mint. Herbal tea usually has lower amounts of antioxidants than other types. There are claims that they help promote a better night's sleep, help with weight loss, and prevent the common cold, but there is no scientific proof that the claims are true.
The Bottom Line
While many of these benefits have been researched, many studies of compounds in tea leaves have only been studied in clinical settings on animals, not humans. Until more studies are done, claims can't be proven but the potential benefits make tea a healthy beverage choice!
References: http://www.webmd.com/diet/features/tea-types-and-their-health-benefits, http://www.health.com/health/article/0,,20534999,00.html
Produced by Meals on Wheels, Inc. of Tarrant County by Kathryn Furlow, a nutrition intern for Sherry Simon, R.D./L.D. For questions regarding nutritional information, please contact Sherry Simon, R.D./L.D., Director of Nutrition Services for Meals on Wheels, Inc. Tarrant County at (817) 366-0912 or email: ssimon@mealsonwheels.org. Website: www.mealsonwheels.org