Eating well is vital for all ages. The daily food choices you make can affect the way you look and how your mind and body can feel. Eating healthy, balanced meals can help reduce the risk of heart disease, stroke, some cancers, bone loss, and type II diabetes. If you already have been diagnosed with a chronic disease, eating healthy can help you manage your symptoms.
Healthy eating can also help you lower your blood cholesterol, lower your blood pressure, and help you control your blood sugar levels. Eating well can also keep your energy levels up. Choosing healthy foods means choosing foods low in the calories and high in nutrients. Food choices can affect your digestion. Foods high in fiber, such as whole grains, fruits, and vegetables can help with constipation. Making healthy foods a part of your life may be easier than you think, even if you are on a limited budget. If you have a medical condition, talk with your doctor to see if there are foods you should include or avoid.
Meals On Wheels provides hot lunches and breakfast bags, but when it comes to eating dinner and weekend meals it is most likely a struggle to eat healthy, well-balanced meals. When considering the cost of food in the grocery stores and the effort it takes to prepare a healthy meal, eating healthy may seem too much of a burden. Assuming you have family and friends who can assist you in grocery shopping, MOW has put together a list of foods to supplement the meals you are receiving from MOW. These foods are easy on your wallet, easy to prepare, and will provide nutrition you need based upon:
Nutrient dense foods, which are low in fat and low in sodium, high in fiber and calcium, and lower in calories.
Flavorful foods, so that you will be looking forward to your meals
Foods easy to chew, swallow, and digest
Budget Friendly Healthy Food List:
Brown Rice
Whole Wheat Pasta
Whole Wheat Bread/Tortillas
Frozen Fruits & Vegetables
In-Season Fresh Fruits & Vegetables
Peanut Butter
Lean meat/poultry ON SALE
Eggs
Canned Tuna
Beans
Sweet Potatoes
Oatmeal
Low-fat Yogurt
Low-sodium Soups
Low-sodium Tomato Sauce
Multi-grain Crackers
Tasty, Easy, Healthy, Inexpensive Food Combinations:
Pasta and Tomato Sauce
Rice and Vegetable Stir-fry
Beans and Rice
Oatmeal and frozen berries
Berry smoothie with Yogurt
Yogurt and Frozen Fruit
Tuna Salad on Whole-wheat bread
Peanut Butter and Crackers
Bean Burrito on Whole-Wheat Tortilla
Bean Soup
MOW researched the prices of the budget friendly foods listed at popular, local grocery stores. The goal of our research was to spend $25 or less on foods that would allow you to prepare healthy meals in your own home. Many of the items listed below can be stored and used beyond one week. Prices were collected June 13, 2009.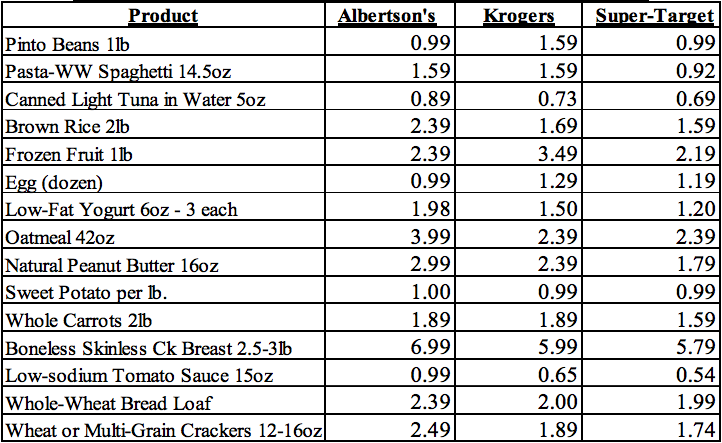 Tactics grocery shoppers can use to pinch every penny:
Plan a week's worth of meals, make a list of foods needed for the meals, and stick to your.
Collect the grocery circulars from your local newspapers or share with your neighbors to find which stores have what you need on your list that is on sale.
Cut coupons from newspapers, magazines, and grocery receipts. Skip coupons for processed foods, they are usually still too expensive even with the coupon.
Compare the unit prices of foods. Look for the bar coded tags on the grocery shelves below most food items. Most of the time the unit price per pound or ounce will be given. Compare different brands and sizes to get the best price per unit.
Shop at local Farmer's markets for the best buys on fresh, in-season fruits and Vegetables.
Purchase lean meats and poultry on sale, divide, and freeze for later use.