Breakfast is an important step in starting your day. Breakfast provides you with energy, enhances your focus, and helps to prevent overeating. This handout will explain why it is important to make breakfast a priority and offer some great tips on which food choices to make in the morning.
After 8 to 12 hours overnight without food, your body needs to refuel its glucose levels. Breakfast provides your brain and your muscles the energy that they need to sustain activity throughout the day.
People who eat breakfast have a better attitude towards work, higher productivity and are better able to handle tasks. Those people also have more strength, endurance and better concentration and problem-solving abilities. Plus, breakfast helps you reach your daily recommended calories and nutrients.
Quick and healthy breakfast tips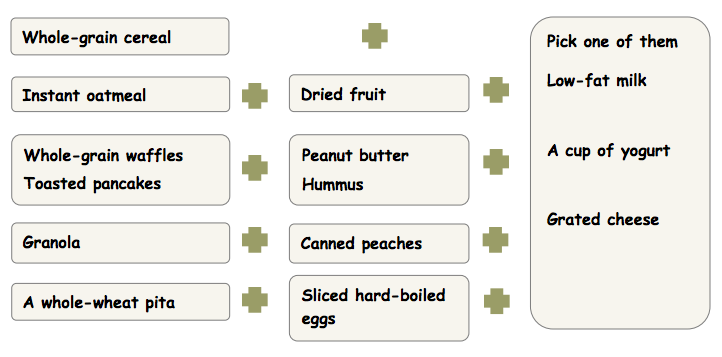 Why do we need a healthy breakfast?
A balanced breakfast of carbohydrates, proteins and fat causes a more gradual release of energy over the entire morning, maintains your blood sugar levels and delays hunger until it's time for lunch.
When breakfast consists mostly of sugary foods, you experience a quick rise in your blood sugar; causing a surge in energy. But after about an hour, your blood sugar and energy levels decline and you're hungry again, long before lunch.
Overcome Barriers to Breakfast
"I'm not hungry in the morning." Start your day with a cup of 100 percent fruit juice or a piece of whole-wheat toast. Later when you are hungry, eat a mid-morning snack – a hard- boiled egg, low-fat or fat-free milk or yogurt, low-fat string cheese or a whole-wheat bagel.
"I don't have enough time in the morning." Stock your kitchen with easy-to-prepare foods such as breakfast cereal, instant oatmeal, small bagels, whole-grain toaster waffles, yogurt and fresh fruit.
"I'll gain weight." There is no evidence to support the belief that eating breakfast will make you gain weight. In fact, skipping meals has been shown to lead to overeating at snack time or the next meal.
"I don't like breakfast foods." Breakfast can be any food you like. A bowl of soup, a lean-meat sandwich or leftovers all make a fine breakfast.
Resources: http://www.mowaa.org. Nutrition Education for January 2011 Produced by Meals on Wheels, Inc., Tar- rant County by Yisi Wang, a nutrition intern for Sherry Simon, R.D./L.D./ For questions regarding nutrition education contact: Sherry Simon, R.D./ L.D., Director of Nutrition Services for Meals On Wheels, Inc. of Tarrant County at 817-336-0912 or email: ssion@mealonwheels.org. Website: www.mealsonwheels.org