About Us
The following information is provided to allow you to learn more about us, the programs and services that we provide, and the clients that we serve.
Mission Statement

To promote the dignity and independence of older adults, persons with disabilities, and other homebound persons by delivering nutritious meals and providing or coordinating needed services.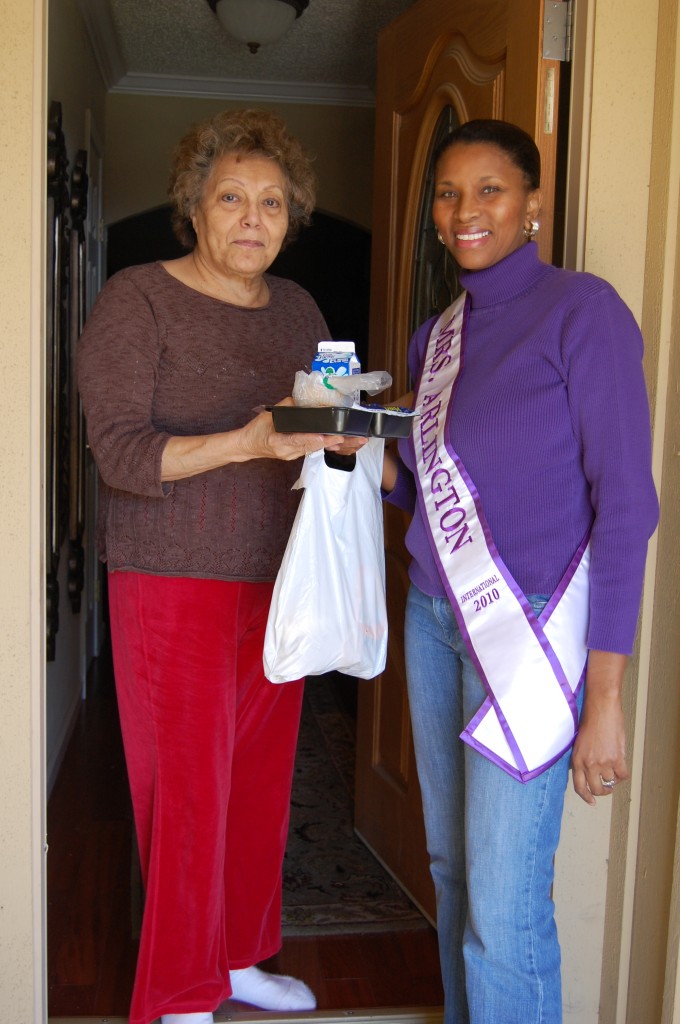 Meals On Wheels, Inc. of Tarrant County is a 501(c)(3) not-for-profit charitable organization that started in 1973 as a collaboration between 11 faith-based organizations in downtown Fort Worth to bring food to the elderly in the central city area. We incorporated in 1977, assumed responsibility of the Arlington Meals On Wheels in 1980, and now serve all of Tarrant County. We provide home-delivered meals, professional case management, and other needed items or services to elderly and disabled homebound residents.
Most of our clients have aged in place, living in the same home for many years. This home is where they feel safe and comfortable. The majority of our clients were self-sufficient and productive their entire life, but they can no longer remain at home without assistance. Without our help, many of our clients would be forced to live in a nursing home or have other full-time care before they really need it. That means they could end up in an expensive facility where they do not need most of the available services.
In an independent study of hunger among the elderly in the United States, Texas ranked fourth highest in the number of seniors going to bed hungry. We can deliver meals to one homebound person for an entire year at a cost lower than one day in a hospital or six days in a nursing home. Plus, through our Home-Delivered Meals program, we save money for taxpayers, who often subsidize the cost of nursing home care for those who cannot afford it.  Another study by the Center for Effective Government found that every dollar invested in Meals On Wheels saves up to $50 in Medicaid spending. In 2014, Meals On Wheels, Inc. of Tarrant County received approximately $575,000 in funding for Medicaid-eligible clients, resulting in a savings of $28,750,000 for Tarrant County taxpayers.
A volunteer force of over 5,000 caring individuals delivers meals to nearly 4,600 people who truly need our help in neighborhoods throughout Tarrant County. Volunteers also deliver blankets, fans, supplemental groceries, medical equipment, pet food, and other essential items to help clients maintain their independence. Volunteers deliver meals and perhaps even more importantly, show concern, love, and compassion. For many clients, volunteers are the only people they see each day.
Our History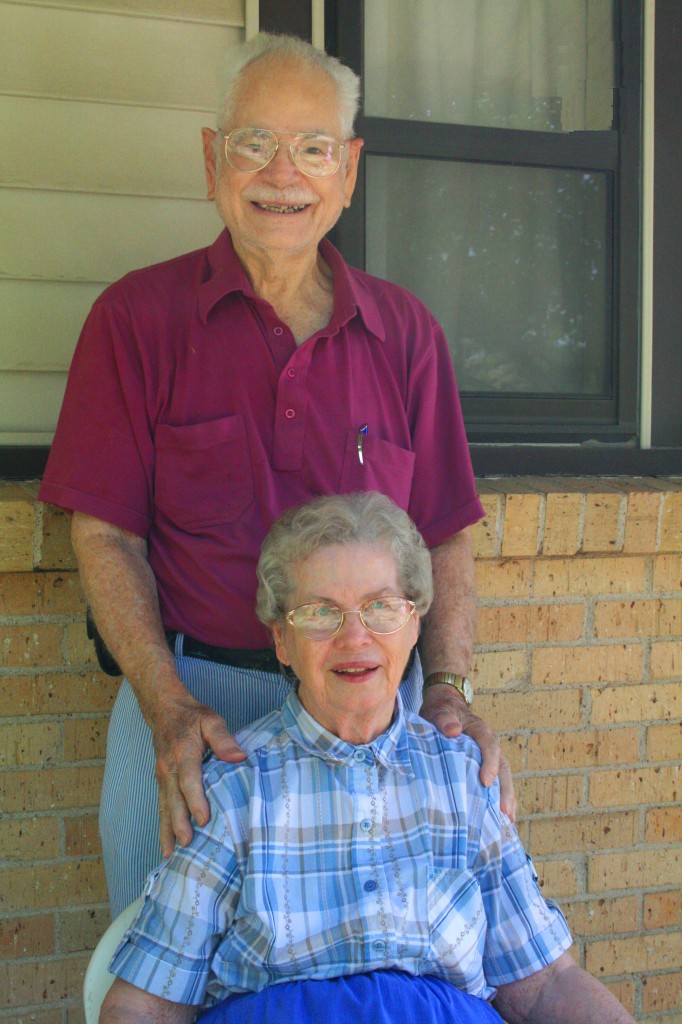 What started as an effort to provide twenty-five meals per day to a small, inner-city area of Fort Worth has grown to a countywide program that now provides nearly 1 million meals per year to homebound elderly and disabled residents of Tarrant County. Despite our tremendous growth, our commitment to helping our clients remain independent in their own homes will never change.
In 1972, representatives from 11 downtown Fort Worth faith-based organizations met to discuss hunger in the central city. These organizations included Broadway Baptist, Central Baptist, Greater St. James Baptist, Mt. Gilead Baptist, First Christian, First United Methodist, First Presbyterian, Gethsemane Presbyterian, St. Andrew's Episcopal, St. Patrick's Cathedral, and Temple Beth-El. From this meeting, the Association of Central City Ministries (ACCM) was formed. Its first concern was providing meals to the elderly. ACCM made the commitment to bring food to the elderly in the central city area and on May 15, 1973, Meals On Wheels of Tarrant County was begun using all volunteer help. On that day, 25 people were fed. Meals On Wheels, Inc. of Tarrant County owes a debt of gratitude to the members of ACCM and the many volunteers from these organizations who worked so diligently to make it a success. These wonderful faith-based organizations continue to support Meals On Wheels as we serve those in need within our community.
In 1989, Meals On Wheels, Inc. of Tarrant County turned to the community to ask for help to fund a central kitchen. Rapidly escalating costs from food service companies as well as limited control of the final product compelled us to seek our own meal-preparation facility. Within eight months, an existing building was purchased and renovated into both the central kitchen and administrative offices. The building has been expanded three times since, most recently in 2001. In January 2015, we embarked on an exciting new chapter in the history of Meals On Wheels as we broke ground on a new 62,000-square-foot meal production and distribution facility. We relocated to the new facility in March 2016. The new building, located at 5740 Airport Freeway in Haltom City, now houses the central kitchen, volunteer training center, nutrition intern project center, storage and distribution center, meeting space, and administrative offices. The new facility will enable Meals On Wheels to meet the current demand for 1 million meals per year as well as the anticipated 75% increase in services by 2030, which will require an additional 750,000 meals per year. Much has changed since 1972; however, the original commitment to serve elderly and disabled people will never change. Along with your assistance, we are helping this frail segment of our community to remain living at home by providing meals, needed services, and a caring smile.
Program Description
Meals On Wheels, Inc. of Tarrant County provides home-delivered meals, professional case management, and other needed services to homebound elderly and disabled residents of Tarrant County, Texas in response to several community needs: malnutrition, food insecurity, social isolation, and poor mental and physical health. On average, we receive 250 new requests for home-delivered meals each month. Every potential client is assigned to a case manager who follows up on each request with a phone call to determine eligibility and ensure that those who need our help get it as quickly as possible.
That initial phone call is our opportunity to assess their cognitive and physical ability. If the case manager determines that the person requesting meals is a candidate for our services, he or she schedules an in-home visit with the person that day. Case managers use a twelve-page intake assessment tool to help determine eligibility. Those who meet the qualification criteria are placed on the program and begin receiving meals within 48 hours. From the 250 requests, approximately 150 new clients are approved for the program each month.
Qualification Criteria: Home-delivered meals are available to those who are homebound for any length of time, are physically or mentally unable to prepare a nutritious meal for themselves, and have no one to help them on a regular basis. Some people may be recovering from a hospital stay or illness and will only be on the program for a short period of time. Others have a long-term need and may receive home-delivered meals on an ongoing basis. This problem affects people of all ethnicities and socio-economic backgrounds. Consequently, there are no age or income restrictions and no one is ever approved or turned away based on their ability to make a voluntary contribution toward the cost of the services that they receive.
Client eligibility and progress are reassessed every 90 days and clients go off the program when they no longer need our services.  All clients on the program receive a noon meal Monday through Friday. Clients who are determined to have additional unmet nutritional needs receive a cold breakfast along with their noon meal, which is intended to be eaten the next morning. Clients without any help are identified as having the greatest risk of not having their nutritional needs met and receive additional meals on Friday to be consumed over the weekend.
Our meal-delivery volunteers play a vital role in our services because they provide friendly visits and observe firsthand the condition of those on their delivery route. If a client does not answer the door, the driver will report bacl to a staff member who follows up to make sure the client is safe and not in distress. These daily safety checks give many of our clients and their families an added peace of mind.
Goals
The Board of Directors has approved the following goals:
Prepare and deliver 970,000 nutritious meals to eligible participants

Menus are developed by a licensed, registered dietitian and approved by our Nutrition Committee, which is composed of agency board members and community volunteers with expertise in nutrition
Menus are developed to ensure quality products, colorful appearance, and client preferences. Meals meet one-third of the daily dietary standards established by the U.S. Government
Staff and volunteers follow defined procedures to ensure seamless delivery from the food production facility to the client's table

Provide 14,000 in-home case management visits to ensure the health and safety of our clients

Case managers see all clients before placing them on the Home-Delivered Meals program
Case managers make follow-up visits at least every three months to reassess the client's need for home-delivered meals and other services. Additional visits are made as needed
Volunteers help in this process by alerting staff when changes occur in a client's health or home status

Recruit, train, and retain the 5,000 volunteers needed to staff 46+ meal-distribution sites and 215+ routes each Monday through Friday

Volunteer recruiters and community volunteers work diligently to secure opportunities to speak about or display our mission
New Volunteers pass a background check and complete orientation and training before delivering meals
Volunteer councils plan recognition events on an ongoing basis

Secure adequate funding so that no one is placed on a waiting list for meals

Staff closely monitors all current grants and searches for new grant opportunities and funding sources
Volunteers and staff plan and execute special events to raise funds and community awareness
Direct mail, newsletters, and emails keep donors informed about how their donations are being used and work to acquire additional donations
40% of our $6.5 million annual budget comes from caring individuals within the community
Desired Program Outcomes
The primary desired outcome of the Home-Delivered Meals program is to meet the nutritional needs of our clients. A secondary objective of the Home-Delivered Meals program is to improve the mental and physical well being of our clients. The performance standard we use to measure success is when 90% of our clients experience improved nutritional status and physical functioning. Case managers specifically discuss the client's status when making quarterly visits. If their status is not improving, additional help is provided where possible.
How We Measure Success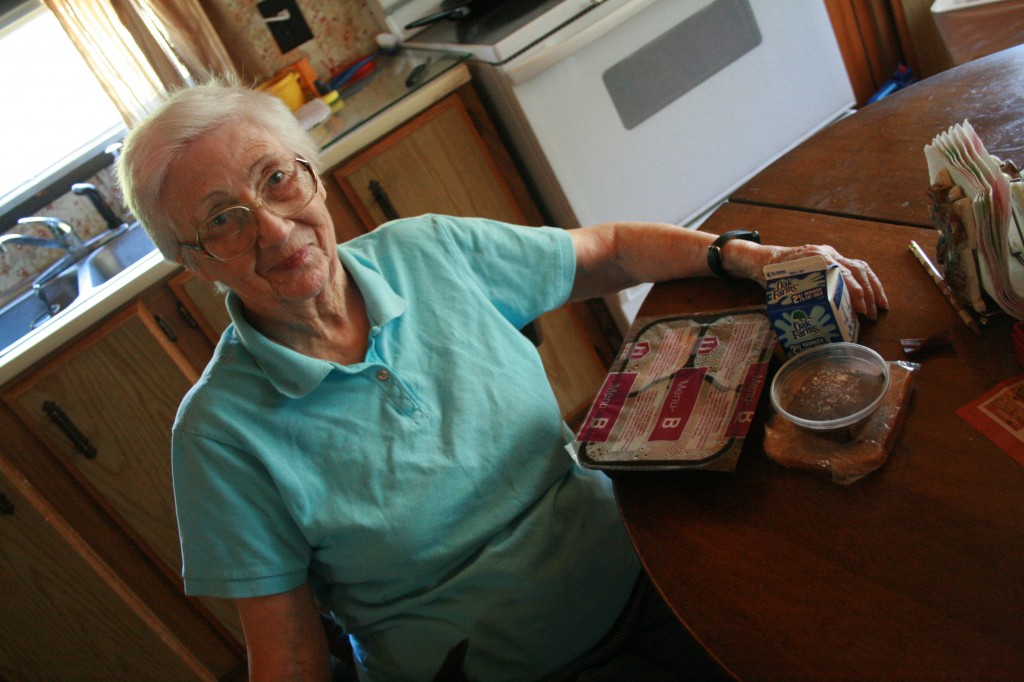 Each client is evaluated by a professional case manager before going on the Home-Delivered Meals program. Clients are then evaluated every 90 days to determine if they are still eligible and if they need any additional assistance. Clients are visited in their home so that case managers can assess their environment and ability to maintain independent living. The case managers ask questions related to activities of daily living, nutrition, physical and mental well-being, and available financial and family resources to help in times of immediate need.
Results
Once a year, our clients receive an in-depth survey that gives them the opportunity to rate the meals, their health status, and any improvements since receiving meals and other services. The most recent survey for which we have results tallied is 2014. Key client findings include:
94% report that the meals have improved their overall quality of life
88% believe that Meals On Wheels has given them more independence
65% report being more physically active since receiving meals
92% report that the home-delivered meals enable them to live at home
86% believe that their health status has improved since receiving meals
52% indicate that the Meals On Wheels meal is always their main meal of the day
72% of clients who were referred to other services with the community by their Meals On Wheels case manager report that their situation has improved
84% of clients who were visited by a dietitian report that the information provided was beneficial to their health
59% report improved memory and cognitive skills since receiving meals
Demographics
Median age: 74.7 years
84% of clients are over the age of 60
64% of clients are female
Median client monthly income: $1,000
Meals served to minority clients: 36%