Meals On Wheels of Tarrant County provides more than just a nutritious meal. While the Home-Delivered Meals program is at the heart of everything we do, we have established a number of ancillary programs to meet specific needs within the community. These programs address issues ranging from senior isolation to unsafe living conditions to a variety of nutrition programs that help our clients manage chronic health issues.
Each client is assigned to a caseworker who makes periodic in-home visits to gauge the client's progress. As part of that discussion, the caseworker will note specific needs and recommend the client to one of our ancillary programs if needed.  Since Meals On Wheels works closely with a number of other charitable organizations, we can also make referrals to other resources within the community.
Home-Delivered Meals
Meals On Wheels of Tarrant County provides nutritionally-balanced, home-delivered, noontime meals to the homebound, elderly and disabled citizens of Tarrant County. Meals are typically delivered between 10:30 a.m. and 12:30 p.m., Monday through Friday.  Some clients need a greater level of care and qualify for breakfast and weekend meals in addition to our regular noontime meal.  The meals are delivered to the client's door by trained volunteers who are often the only people our clients see on a daily basis.  We prepare and deliver approximately 1 million meals per year right here in Tarrant County.
Qualification Criteria: Home-delivered meals are available to those who live in Tarrant County, Texas who are homebound for any length of time, are physically or mentally unable to prepare nutritious meals for themselves, and who have no one to help them on a regular basis. There are no age or income restrictions and no one is ever approved or denied services based on their ability to make a voluntary contribution toward the cost of the services provided.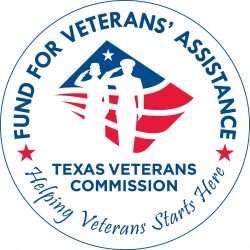 The Home-Delivered Meals program is supported in part by a grant from the Texas Veterans Commission Fund for Veterans' Assistance.  The Fund for Veterans' Assistance provides grants to organizations serving veterans and their families.  For more information on the Texas Veterans Commission, visit TVC.Texas.gov
COVID-19 Supplemental Nutrition Program
The new COVID-19 SNP program is a collaborative effort between Meals On Wheels of Tarrant County, United Way and Area Agency on Aging of Tarrant County, Tarrant County, Tarrant Area Food Bank, and Catholic Charities Fort Worth.  This is an enormous undertaking made possible by the support and funding from the stakeholders mentioned above.
Client Eligibility – the new program focuses on food-insecure seniors residing in Tarrant County.  To be considered for this program, a person must:
Reside in Tarrant County
Be age 60 or over
Be the spouse of a person age 60 or over
Be food insecure
This program is intended to serve seniors who do not have access to food during the COVID-19 crisis.  This may mean that the person is following recommendations to stay at home during this crisis and is just not able to get to the grocery store. It might mean that the person normally has a family member who provides assistance and that care provider is either staying at home or is temporarily unemployed, keeping them from providing the needed assistance.  Basically, you can think of eligibility in this way: People age 60 and over who say "If I just had food, I could cook it myself."
Although other agencies are involved, this is a Meals On Wheels of Tarrant County program.  Referrals will come in through the mealsonwheels.org website referral form or via a phone call to 817-336-0912. When we receive a referral, the prospective client will be assigned to a Meals On Wheels caseworker who will conduct our standard interview process over the telephone.  The caseworker will determine if the individual should be placed on the Home-Delivered Meals program, the new COVID-19 SNP program, or whether the person does not meet the criteria for either program and should be referred to another agency, perhaps a food bank in their area.
Program Details – once an individual is placed on the COVID-19 SNP program, the client and spouse (if applicable) will receive a box of five frozen meals (per person) AND a 10-pound box of senior-friendly canned goods and fresh produce.  These items will be delivered one day per week every week by paid drivers from Catholic Charities Fort Worth. 
Agency Roles – since there are several agencies involved in this project, I want you to understand the logistics of the program.
Meals On Wheels – the five pack of frozen meals will be prepared in our kitchen.
Tarrant Area Food Bank will prepare a 10-lb. box of senior-friendly canned goods and fresh produce.
Catholic Charities will pick up and deliver the food to clients.
Note: COVID-19 SNP food will not be delivered by volunteers.
United Way and Area Agency on Aging of Tarrant County are providing funding for this program.
If you would like to refer yourself or someone else to receive food through the COVID-19 SNP program, please complete the online referral form or call 817-336-0912.
Case Management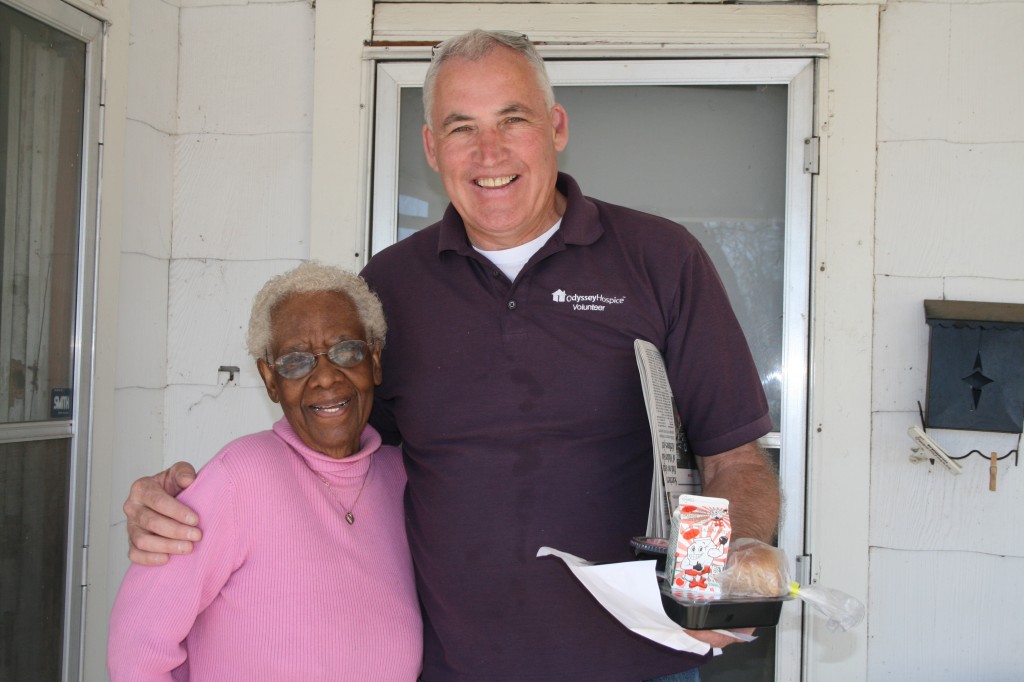 Each client and prospective client is assigned to a professional caseworker who assesses the client's needs, coordinates other needed services, and advocates for the client with other agencies. All clients are re-certified for the program on an annual basis. The caseworker is also the client's link to accessing and receiving other services within the community.
Our first priority is always providing a nourishing noon meal, but the caseworkers also determine if clients need additional meals or other services that we can provide or coordinate with other service providers. We see every client in their home at least three times per year.
We assist clients with fans, air conditioners, and heaters. We process applications that allow low-income clients to occasionally have their utility bills paid. We arrange for our clients to borrow, indefinitely and at no cost, equipment such as walkers, commode chairs, and bath rails. We check on clients when we are concerned about their safety. Our caseworkers help to greatly improve the quality of our clients' lives, allowing them to live in their own homes for as long as possible.
▲ Back to Top
Client Assistance
Through our Client Assistance program, we are able to provide support to homebound, elderly and disabled meal recipients who need help with minor home repairs and safety issues. These projects are intended to keep clients at home in a safe and healthy environment. This program is considered a last-resort resource when the client desperately needs something and has no other resources available.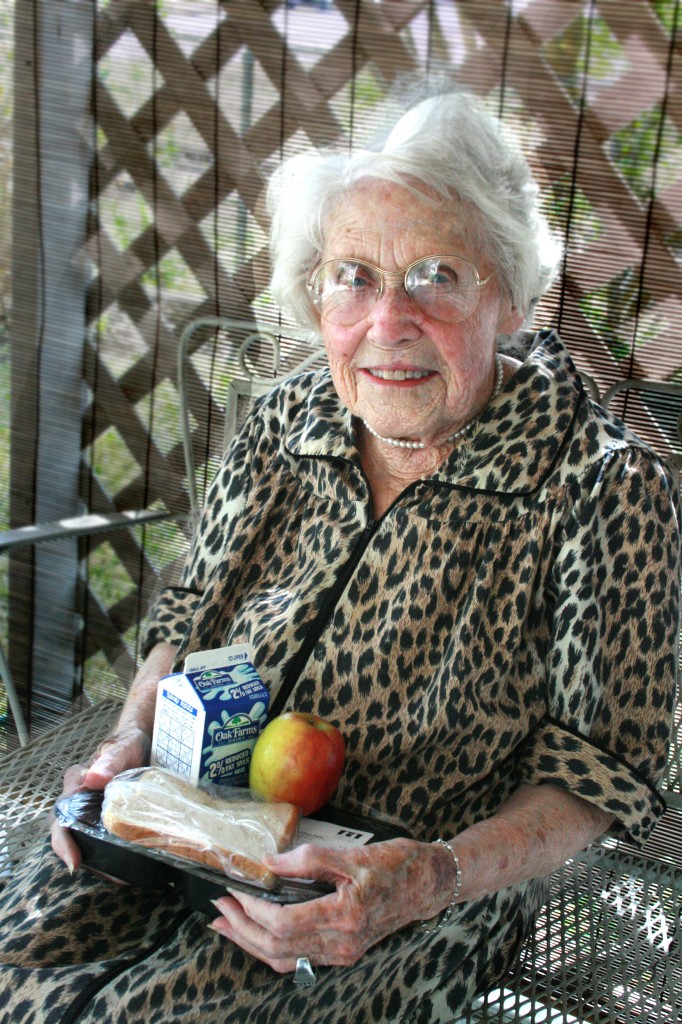 Our first priority is always providing a nourishing noon meal, but each client's caseworker also determines if other services are needed. Clients are visited in their home so that caseworkers can assess their environment and ability to live independently. The caseworkers ask questions related to activities of daily living, nutrition, and physical and mental well-being along with what resources (financial and family) clients have available to help them.
Client Assistance projects are specific; therefore, once an item is provided or a situation is addressed, the client's level of impairment is immediately improved. Caseworkers continue to evaluate each client on a regular basis to determine if there are any additional needs.
This program is funded through donor-designated gifts and by local businesses that provide assistance with minor plumbing, electrical, roofing, tree trimming, home repairs, and other tasks on a pro-bono basis. With your support, we can provide fans, air conditioners, heaters, walkers, wheelchairs, blankets, adult incontinence supplies, grab bars, microwave ovens, bedside toilets, personal hygiene products, and so much more.
If you would like to make a monetary donation to Meals On Wheels in support of the Client Assistance program, click here.
For more information about the Client Assistance program, please contact Iris at iris@mealsonwheels.org or 817-258-6433.
▲ Back to Top
Friend to Friend Program
The Friend to Friend program is designed to help combat the loneliness and isolation of our homebound clients. Volunteers are encouraged to build friendships with lonely clients by making weekly in-home visits.  Many of our clients have no visitors except for the person who delivers their meal each day. As a society, we tend to ignore our most seasoned members. These individuals have been productive members of society for many years and have interesting stories and experiences to share with anyone who will take the time to listen.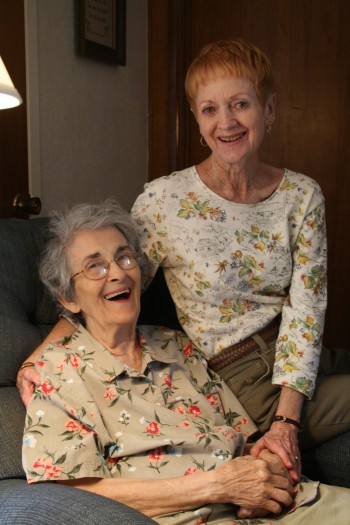 You can enhance someone's life by simply being a friend to an elderly or disabled person who may have no other visitors. At first, you can talk about the weather, a good book, or current events. The great thing about friendship is that these conversations will develop and become more meaningful to both you and the client. We have had numerous volunteers tell us that they get more out of the friendship than they could ever hope to give the client.  Plus, your weekly visit gives us one more set of eyes to check on the well-being of our clients.  If you notice a change in the client's health or behavior, you can alert Meals On Wheels so that we can follow up with the client. These additional safety checks give everyone involved an added peace of mind.
To ensure the safety of our clients, each Friend to Friend volunteer must pass a short background check. After that, we will bring you in for an orientation, match you with one of our clients needing a friend, and when the time comes, go with you to introduce you to your new friend.  We require a 6-month commitment for this program, but the great news is you can do this on your own timeline. Plus, we will put you in contact with someone in your area.
For more information on this program or to become a volunteer, contact Sarah Drew-Watson via email or by calling 817-258-6426.
▲ Back to Top
Supplemental Food
Food supplied by local food banks and church pantries is distributed to meal recipients who need more food assistance than can be delivered through the daily meal program.  For more information or to donate food pantry items, contact Iris at iris@mealsonwheels.org or 817-258-6433.
▲ Back to Top
Errands Program
Volunteers are matched with clients who need someone to shop for groceries, prescriptions, or other items on their behalf.  For more information or to volunteer, contact Iris at iris@mealsonwheels.org or 817-258-6433.
▲ Back to Top
Companion Pet Meals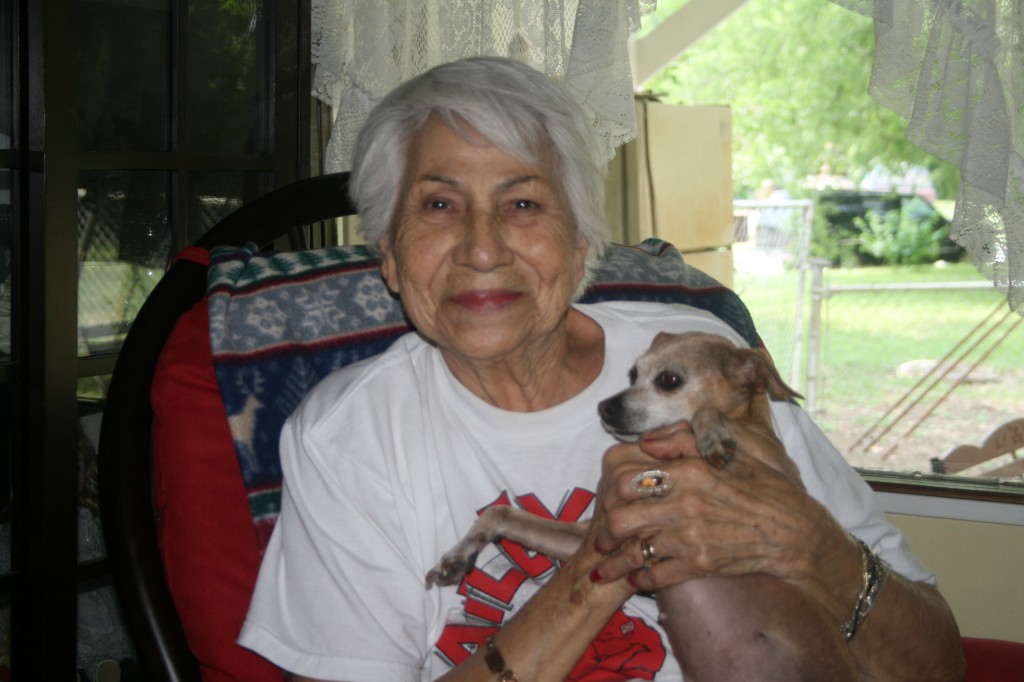 Years ago, we learned that an alarming number of our elderly and disabled clients were not eating all of their nutritious meal, but actually sharing it with their pets! This is a real problem for clients who live on a minimal income and desperately need the full nutritional benefits of our meals, not to mention the fact that our meals are not always healthy for the pets. Clients who have difficulty adequately feeding their cat or dog may receive supplemental pet food for up to two pets at no charge.  For more information or to volunteer, contact Iris at iris@mealsonwheels.org or 817-258-6433.
▲ Back to Top
Nutrition Programs
These programs are designed to help clients with specific nutrition needs. They are partially funded by United Way of Tarrant County and carried out by our dietitians.
Nutrition Education
Through our Nutrition Education program, we aim to keep people healthy at home and reduce preventable hospitalizations and emergency room visits, ultimately saving valuable taxpayer dollars.  Clients must be age 35 years or older and have either a diagnosis of diabetes or be at risk of developing diabetes, or be at increased nutritional risk.
Goals with projected outcomes:
Reduce hospitalizations and emergency room visits by 10% or more for six months after intervention compared with six months before intervention
Enhance health status and capacity for self-care
Meet behavioral change goals
Report greater confidence in dealing with their health issue(s)
Public benefit – based on four of the diseases found most often in our clients, the average cost of hospitalization in Tarrant County is $27,000.  Independent program evaluators found a 42% reduction in hospital stays among program participants, potentially saving Tarrant County taxpayers millions of dollars annually.
To learn more about the Nutrition Education program, contact us at 817-258-6427 or via email at mailto:nutrition@mealsonwheels.org
▲ Back to Top

HomeMeds – Medication Management
The HomeMeds program was established to prevent falls and hospitalization due to medication errors and adverse drug effects among older adults.  The risk for severe reactions and interactions, medication errors, and medication duplications are found at an alarming rate among the senior population. Through this program, we are able to save lives and health care dollars by identifying serious drug reactions and help eliminate the need for our clients to visit hospitals because of problems with their medication.
All prescriptions, vitamins, and herbal supplements are reviewed to identify any medication errors or adverse drug effects.  These findings are then discussed with the client.  This program is especially beneficial to people who:
Go to multiple doctors or pharmacies
Take over-the-counter medications
Have experienced falls, dizziness or confusion
Have recently been to the hospital
Feel overwhelmed with obtaining or taking their medications
To learn more about the HomeMeds program, contact us at 817-258-6427 or via email at mailto:nutrition@mealsonwheels.org
▲ Back to Top