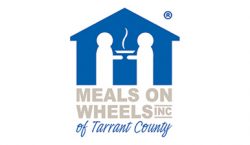 Meals On Wheels of Tarrant County provides nourishing meals to homebound people who are physically or mentally unable to prepare meals for themselves and other older adults who face food insecurity or who would benefit from meals in group settings where they can socialize with friends. Our menus and recipes take into consideration the needs, preferences, and dietary requirements of older individuals.
Our central kitchen prepares breakfast meals, hot noon meals and frozen meals as well as fresh, nourishing meals for those who eat in congregate settings at adult activity centers. When we are closed for holidays, frozen meals are delivered to our clients in advance of the holiday. Some clients with special needs receive weekend meals. The weekend meals may be a cold box meal or a frozen meal. We also send out shelf-stable meals for our clients to have on hand for days when inclement weather may prohibit us from delivering meals.
Our meals are planned by registered and licensed dietitians. We provide our Home-Delivered Meals clients with a menu, which includes nutritional information on calories, sodium and grams of carbohydrates, so that they can make their meal selection. We are one of the few Meals On Wheels programs to offer our Home-Delivered Meals clients a choice of meals. Our clients may choose between two daily entrees and a selection of beverages. We offer a wide variety of meals which are repeated only once every six weeks. In order to keep our meal offering fresh and appealing, menus are changed out every six months. Our Nutrition Committee (composed of board members, community volunteers, and food service professionals) reviews, changes, and approves the menus.
In planning the menus, client comments are taken into consideration. Every year, each client receives a satisfaction survey, and nearly 35% of clients return their surveys to us. We record all comments and try to respond to them. We also receive calls and notes from our clients daily and record their comments.
On average, our meals meet at least one-third of the daily recommended dietary allowances for males 51+ years of age. Our registered dietitians review the nutritional analysis before finalizing the menus for committee review. The sodium content of the meals does not exceed 1,000 milligrams on average. No salt is added during preparation, and salt-free products (such as frozen vegetables rather than canned) are used as much as possible.
For clients monitoring their sugar intake, our meals contains no concentrated sweets.
Our cooks take pride in their work and are very good at coming up with creative ways to add flavor to our meals without adding salt or fat. The fat content is generally 20 grams or less per meal. The kitchen staff and dietitians monitor the meals for flavor, tenderness, and appearance on a daily basis. The option of milk (low fat, skim, chocolate) or Vitamin D fortified orange juice is given to each client.