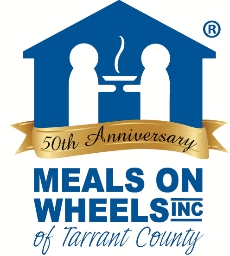 Delivering meals to our homebound neighbors is an ongoing volunteer opportunity with Meals On Wheels of Tarrant County. Volunteers come from all walks of life: individuals, couples, retirees, stay-at-home moms and dads, as well as office, church, and civic groups. Anyone who can spare 1 ½ hours just one day per week Monday through Friday can change someone's life for the better.
Senior isolation is a big problem in America. Volunteers provide more than a life-saving meal. They offer those they serve with a vital link to the outside world. For the majority of our clients, their meal-delivery volunteer is the only person they see each day. As one client said,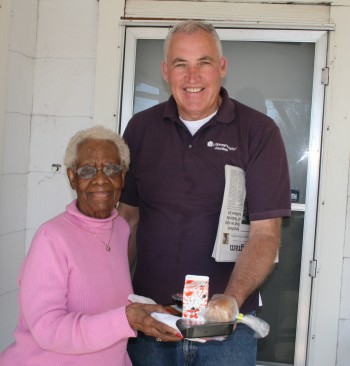 "Before becoming a Meals On Wheels client, I went for three months without seeing or speaking to another human being. I sat in my apartment day after day wondering if anyone even knew I was alive. As much as I appreciate the meals, the thing that has really changed my life is that now someone knocks on my door every day and asks how I'm doing. I know that even for a few minutes, I matter to someone."
This would not be possible without the support of individuals just like you. Volunteer drivers deliver just one day per week, Monday – Friday, between the hours of 10:30 a.m. and 1:00 p.m. Meals are picked up at a neighborhood distribution site near the volunteer's home or office.  Each volunteer delivers between 12 and 14 meals in their area and delivery takes approximately one hour.
Regular Delivery Route Volunteer – an individual or group delivers the same route on a specific day each week, such as every Tuesday.
Substitute Delivery Route Volunteer – an individual is on call to deliver meals when the normal volunteers are unavailable for their assigned meal delivery.
Group Delivery Opportunities – many individuals in church, civic, and office groups join together to deliver meals. A group will be assigned to a specific route and will rotate weeks between group members, with each person delivering meals only one day per month.
Meal Distribution Site Greeter – be the person at the meal distribution site who welcomes the volunteer drivers and acts as the liaison between the meal site and the Meals On Wheels main office. The primary role of this person(s) is to set up the meals and ensure that all meals are picked up by the volunteer drivers.
Meals On Wheels provides:
Volunteer orientation
Training with an experienced volunteer
Insulated container to transport the food
Delivery route sheet with map
Food to deliver
Volunteers provide their own transportation and gasoline. One day per week, Monday through Friday, the volunteer will pick up a container packed with 12-14 meals from a Meals On Wheels meal-distribution site near his or her home or office and make deliveries along a route that typically covers 2-5 miles. Sixty minutes later, the volunteer is back at home or work, feeling great about helping someone in need receive a hot, nutritious meal – almost certainly the only one he or she will have that day.
For more information, contact us or call 817-258-6426. We will be happy to answer your questions and schedule you for a training class. You may also complete the volunteer form online.