By Keith Harrison
If you've ever read one of my stories in these newsletters, you know that I have a soft spot in my heart for old people. Maybe it's because they remind me of my grandma or now that my own mother is 90, I see her life reflected in the lives of so many people who now struggle with even the simplest of daily tasks. Whatever the reason, I'm always excited when I have the opportunity to go out and talk to one of our clients. This month, I had the enormous pleasure of meeting Agnes. There are just some people that you have an immediate connection with and Agnes is one of those people. I think she had me wrapped around her little finger within the first 30 seconds when she called me "dear." I melted.
The year was 1936 and the United States along with most of the world was still in the grips of the Great Depression. Within a few weeks Franklin D. Roosevelt would be re-elected for a second term as President of the United States. In San Antonio, Agnes was born into a family of nine children. Her father worked in the local ice house. When Agnes turned 14, she started working at the ice house, too. "I had to use tongs to put big blocks of ice into the crusher," she said. "People would come in with big pans to pick up the ice. Sometimes they wanted blocks of ice, but usually they wanted crushed ice." A few years later, her father got a civil service job at Kelly Air Force Base. "There's a lot of military in my family. My brother has a Purple Heart from Vietnam."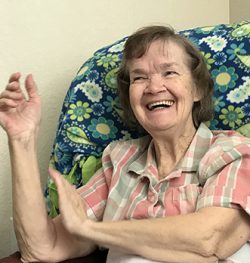 A day before she turned 19, Agnes married a man in the National Guard. The couple had two daughters right away. Later on, they had two more daughters. "Boys are so much easier to raise, but I had four girls," she laughed. After twenty-eight years, the marriage ended and Agnes became a single parent of two young girls. It was hard to make ends meet in those days. Agnes went to work as a house parent for Texas Baptist Home for Children in Waxahachie. "I had eight teenage boys and eight teenage girls. Oh, the stories…those poor children…you just can't imagine what those kids had been through. There was one little boy who climbed up in my lap and said 'will you be my mommy?' It broke my heart. We took care of them as best we could and took them to church. I also volunteered in a nursing home."
I told you that Agnes had me as soon as she called me dear. I knew it was more than a silly term of endearment. The truth is that Agnes has an inner light that shines bright. It originates down deep from within her soul and comes bursting out through her beautiful eyes and smile. I was sure of the answer before I even posed the question. "What's your secret to happiness?" I asked. "It's my Christian faith," she said without missing a beat. "God's done so much for me and I'm so thankful for everything."
"Now I want to make one thing clear," she continued. "I want this [interview] to be all about Meals On Wheels. You see, Meals On Wheels enables me to live alone in this home. I couldn't make it without Meals On Wheels. Without all those sweet people, what would I have? They're so faithful. They're humble. They send me cards. It's hard to express my gratitude because they minister to my needs. That's what they're doing, ministering to me. And
they always do it with a big smile on their faces. When someone brings my meal and smiles at me and asks me what they can do for me, I'll say 'you just did it.' "
Agnes had something else to say. "And I want to tell you about the people who cook the food. It's always so good. They're so inventive! I can't make all those things. Wow!" I laughed when Agnes said "wow." She smiled at me with an infectious smile and said, "I'm serious. It's a big deal that I get to live here." Agnes leaned back in her chair and thought for a minute, then she quietly said, "It's a big deal to me."
I've told you before that I'm a big crybaby. Agnes was so genuinely grateful for the services she receives and for all of the people who volunteer and make it possible for her to remain at home. Then she reached her hand out toward me and said, "I know you don't cook the food, but thank you, too." That did it. She made me cry. I wish I could say this to all of the clients we serve, but at that moment, it was just me and Agnes. "Agnes," I said, "it is one of the greatest honors of my life to have the opportunity to serve you. There are so many people who make this possible, but you are so welcome. I can't tell you how much I've enjoyed meeting you today."
I'm a blessed man. I know people say that all the time, but I'm keenly aware of the blessings in my life. Before coming to Meals On Wheels, I had a 29-year career in corporate America. I loved my job and was devastated when I got laid off due to a corporate merger and restructuring. Just to have something to do, I started volunteering with Meals On Wheels. Although working for a nonprofit was nowhere on my radar, I did some research. I was impressed that 86¢ of every dollar donated goes directly to providing services for those in need. I knew that was really good. I saw that the agency was financially sound and I was impressed with the Board of Directors that oversees the agency. I could see the devotion of the staff and volunteers. Yes, Meals On Wheels checked all the boxes, but do you want to know what made me give up a higher paying corporate job? I met two of our clients.
Like Agnes, they told me how Meals On Wheels made a difference in their lives. I knew without a doubt what I was meant to do in the next chapter of my life. There's a scripture that says, "whoever is kind to the needy honors God" (Proverbs 14:31). Since that time, I have had the opportunity to meet so many wonderful clients and my life is so much fuller for those experiences.
It doesn't matter that I don't cook or deliver the food. I know that I have a part in making someone's life a little better. Whether you financially support our mission or give of your time to ensure that someone else has a nutritious meal and a friendly smile, Agnes and I want you to know that it's a really big deal.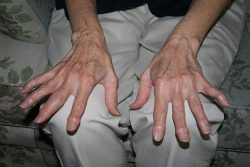 Agnes loves to read and write poetry. She is also a country music fan and loves to watch The Voice on television. Two years of chemotherapy have made it difficult for Agnes to get out, so she spends her time writing. She wrote this poem to express her gratitude:
These Hands
These hands took care of a husband and four children.
These hands helped prepare meals for children in an elementary school.
These hands prepared meals for children in a children's home for many years.
These hands are retired now and arthritis has taken its toll.
These hands are now living alone.
These hands meals are now prepared by Meals On Wheels of Tarrant County.
These hands are very grateful!
— Agnes