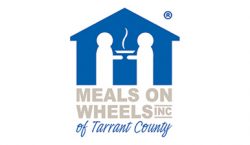 By Jordan Lyle
In 1966, Stephanie met Olivia for the first time. Stephanie was just 11 years old and had recently moved to Fort Worth from Indianapolis with her family. Her father became a plant manager in the area and Olivia was his new secretary. At the time, Stephanie had no idea how deeply entwined they would become in one another's lives. After all, Stephanie was just a kid and Olivia was just another employee at her dad's office. Their paths crossing seemed like nothing more than a mere coincidence.
Twenty five years later though, Olivia was still working for Stephanie's father, even after the plant had closed and he opened his own company. Olivia had watched Stephanie grow up, go to college, get married, and start her own family. Olivia was no longer just a face at the family business, she was an extended member of the family.
Just a few years ago, Stephanie lost her father and Olivia lost her husband. As often happens with these types of life changes, the two sort of lost touch with one another. Still, Meals On Wheels was an unnoticed tether between the two and fate was about to bring them back together.
After signing up for a meal-delivery route, Stephanie was eager to do more. By chance, she noticed Olivia on one of our Facebook posts and realized she was a client. Seeing the face of an old friend immediately made Stephanie smile. She called the Volunteer department to let them know that she knew Olivia and to ask if she might be interested in our Friend to Friend program. If so, Stephanie wanted to give one hour per week to visit with the woman who had worked for her family her entire life.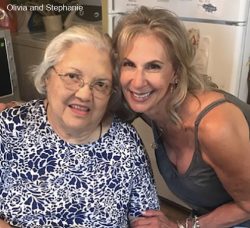 "She's kind, generous and extremely considerate. She's one of my favorite people," said Stephanie when asked about Olivia. Without even knowing who the volunteer would be, Olivia was ecstatic about the idea of a friend visiting with her. She's a charismatic lady, full of colorful stories and bursting with energy. The idea of some company seemed nice.
Stephanie picked up the phone to call Olivia and share the exciting news. "I remember exactly what she said because it was the Fourth of July when I called her and she said 'You just made my fourth of July!' It was really special!" said Stephanie retelling the phone call.
Now, sitting with them in Olivia's kitchen around her small wooden table, with pictures scattered about its surface, the
joy the two have when in each other's presence is undeniable. It's natural and warm. The stories flow effortlessly and their laughs come out with such authenticity.
All these years later, Stephanie and Olivia have traded roles. Stephanie is now serving Olivia. She checks in to make sure she's safe and provides her social interaction as she adjusts to life as a widow. It's a bonus Olivia never could have expected to receive all those years ago when she first began working as a secretary for Stephanie's dad.
"I have something to look forward to now. It makes my day and I'm just happy, happy, happy!" Olivia said with a big smile. You can help us make more of our clients happy by becoming a Friend to Friend volunteer today. Learn more at mealsonwheels.org/friend.