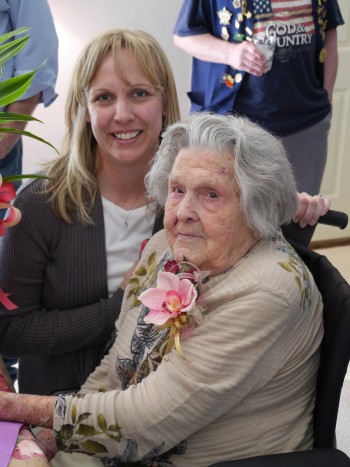 By Iris Bruton —
Beulah was born in March of 1910 in Marmaduke, Arkansas. Just in case you are a little rusty on your math, that makes her 105-years old! She had the unique blessing of being a triplet, in a family of 13 children, which also included two sets of twins. Her family moved Saginaw when she was eight-years old. She has seen a lot of changes over the years. "Back then, there was a blacksmith, post office, Baptist church, a schoolhouse, and a cotton gin," she said.
One of Beulah's most cherished memories is playing the lead in a play produced by Saginaw Baptist Church. They carried the play all over Fort Worth and Keller. "It's one of the best shows you ever seen," she said.
She married Herman in 1934 and they became the proud parents of two sons. They owned a 405-acre dairy farm off Old Decatur Road. Beulah loves the outdoors and enjoyed hiking, fishing, and dancing. She has always been active in church, schools, and Cub Scouts. Beulah taught vacation bible school and loved going to baseball games with her son, Joe.
After selling the remaining parts of her beloved farm in 2000, she moved to her current home. Joe recently moved in with her to help. When asked about her secret to a long life, Beulah replied, "I just make other people happy."
Today Beulah doesn't get out much, but she still enjoys card games, especially Skip-Bo. According to Joe, "she is a vicious competitor. I can't beat her." That made Beulah grin.
Beulah enjoys the meals – especially breakfast – that she receives from Meals On Wheels. Please consider a generous donation to our Home-Delivered Meals program to help provide services to seniors like Beulah.