By Keith Harrison —
If you want to put a smile on your face, ask 91-year-old Val to play the piano for you. Born in Chicago in the spring of 1926, Valenia was tragically orphaned at the age of nine, and was then raised by her grandmother. As an only child, she played with the neighborhood kids, which included a Boy Scout named Joe.  We were Methodist and Joe was a Baptist," she laughed, "and that was in the days when the Methodists didn't like the Baptists and the Baptists didn't like the Methodists."  Despite this "significant" difference, Joe's family lived just around the corner and the two went to the same grade school.  Joe later attended an all-boys high school, and as fate would have it, love started to blossom when the two of them started singing together in the Baptist choir.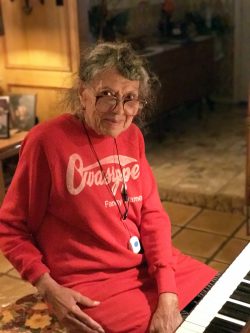 "When Joe's Scoutmaster joined the military, Joe promised to keep the troop going," Val recalled.  Joe was a junior in college when WWII broke out, and like so many brave men from his era, he joined the Air Force and became one of the famed Tuskegee Airmen. "I was just 17, but I followed Joe to Alabama and we got married while he was in flight training. When I saw his plane, I told him, 'you couldn't pay me to get in one of those!' "  When Joe was sent overseas, Val returned to Chicago and earned her bachelor's degree at Chicago Teacher's College, which prepared her for a career as a kindergarten teacher.
After the war, Joe finished college and started his life-long career working for the Boy Scouts.  Not surprisingly, all three of their boys were Boy Scouts, and Val even became a Den Mother!  Joe passed away many years ago, and while she still thinks of him every day, her life is filled with lots of grandkids and great grandkids…oh, and her dog Harley.  Val asked us to thank all of the wonderful people who deliver her meals.  When asked about her favorite meal, she said, "I love the cookies!"
Editor's Note: When I saw that Val had a piano, I asked her to play.  Treat yourself to a short video of Val's performance from The Sound of Music.  It will definitely brighten your day.  Click here to watch the video.