By Keith Harrison —
Let's start by getting introductions out of the way. After all, my mother is too shy to speak to anyone until they have been properly introduced.  So in keeping with Southern decorum, I'd like you to meet my mom, JoAnne.  Mom, this is…well, everyone.
Born the youngest of five children in 1928, her family took to calling her Jokie at a young age…and it stuck. Mom is a Kansas girl through and through.  To this day, we tease her about her accent.  She usually responds with, "what's wrong with the way I talk?" Well, Mom, it starts with the way you say "dog" with a long O and "far" (she means "fire"), and too many other words to list here.
There was a lot of music in her home and it seemed that everyone but my mom had talent. "Jack and Cokey could both play the piano, Maxine could sing, and Harriett could dance. Then there was me," she says with a sheepish grin. "I don't know what happened, but I couldn't do anything." Well, that's not entirely true. Let's just say that Jokie likes to make a joyful noise. To this day, she sits around and sings or whistles to pass the time.
Mom and Dad met at Brown's Café in Pawhuska, OK shortly after he got out of the navy at the end of WWII. Mom was working as a waitress when "Johnny" stopped in for a bite to eat.  The rest, as they say, is history.  She remembers hanging out the car window, gawking at the tall buildings that lined Main Street in Fort Worth when Dad brought her to Texas in 1948.  "They didn't have anything like that in Chanute (Kansas)," she says.  "I was amazed that Fort Worth was so big that it could rain on one side of the city and not the other.  When it rained in Chanute, everybody got wet."
Ten years later, Mom and Dad were living in Handley when they heard something on the radio about a new housing addition in Euless. "I didn't think there was any way we could afford a house," she laughs. "Just a few weeks before that, Johnny came home on my birthday and told me that he got me something to help with the 'worshin'. 'Oh boy, he got me an electric worshin machine,' I thought. Then he gave me a scrub board!  I sure got mad at him. Even though we didn't have much money, we decided to go look at houses just to have something to do on Sunday afternoon."
They followed the directions out Highway 10 toward Euless. When they got to Irving, they realized they had passed Euless somewhere along the way. Funny enough, it took them two more tries before they found the cutoff for Euless.  They ended up buying a house that wasn't even built yet. "We were the first ones to buy on this block, so we got to pick out which house we wanted," she says. It's hard to believe it now, but this house cost $8,900 brand new.  I think our house payment was $84 per month.  I wasn't sure how we were going to make it."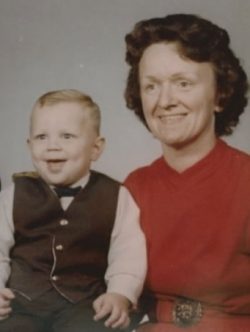 Mom and Dad raised three children – two boys and a girl. There was a lot of music in our house, too, but that's because they both thought it would be a good idea for all of their children to learn to play the accordion. That sort of sealed our fate as the not-so-cool kids on the block. Oddly enough, we had a piano. To this day, Mom cannot give me a good reason for making us play the accordion instead of the piano. Well, the joke was on Jokey. She had to sit there for two hours every week as the Al Trick Accordion Band got together for practice. Now she admits that she never really liked the accordion. Pay backs, as they say, are…well, you know the rest.
Mom has lived in that same house in Euless for the past 57 years. Dad died of a stroke back in 2000, and my mom clings to the memories they created there.  A few years ago, I talked to her about selling the house and moving a little closer to me.  "Honey, I'll do it if that's what you want, but I really don't want to leave my home," she told me. "I sit here and think of you kids running around and all the Christmases we had. It's nothing fancy, but I love this house."  "I love it, too, Mom," I told her. "If this is where you want to be, that's okay with me."
At the age of 87, Mom doesn't get around very well these days. She has some fairly significant mobility challenges that make it almost impossible for her to leave the house.  She can no longer stand long enough to cook, so she now receives home-delivered meals from Meals On Wheels.  I'll call her and ask what she had for lunch, and she'll tell me what she liked…and didn't like.  It's like pulling teeth to get my mother to eat a vegetable, so she's always quick to tell me that she ate her veggies.  Then she will say, "Why can't they just call green beans "green beans?"  I always laugh and tell her I've asked the same question.  By the way, the registered dietitian who plans the meals is quick to point out the variety of recipes used to ensure tasty meals.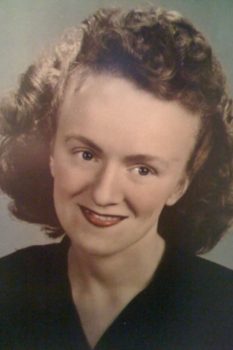 Mom's favorite part of the day — besides watching Live! with Kelly and Michael and Young and the Restless (I got her hooked on that one back in the mid '80s) — is when the volunteers stop by with her meal.  She loves to see them and catch up for a few minutes on what's going on in each of their lives.  Then she will call to tell me about someone's grandkids or some other life event, and I will have no idea who she's talking about until it dawns on me that it's one of her meal-delivery volunteers.
As the adult child of an elderly parent, I want to tell you how much it means to me to have someone look in on my mom every day. I cannot be there for her all the time, so knowing that someone sees her every day gives me an added peace of mind, not to mention that it helps with the loneliness experienced by so many seniors. As for the meals, her doctor is pleased that she is finally eating her vegetables. Lately, she has been after me to get the creamed corn recipe from "the lady in the kitchen."
On behalf of Mom and all of the other homebound elderly and disabled clients we serve, thank you for your support.