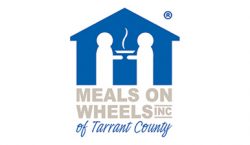 I want to begin this update with a heart-felt thank you to each of you for your commitment and flexibility.  We have seen a huge increase in the number of new clients, which is stretching our volunteer, staff and financial resources to their limits.  Many of you are delivering more meals than normal to clients you may not have served in the past.  Plus, we have had challenges with access to several of our meal-distribution sites.  Despite all of that, you show up day after day and display the grace and compassion for which our agency is known. I could not be more proud of each of you.
As the COVID-19 virus spreads and Tarrant County Public Health updates their guidelines, we continue to update our procedures to keep you and our clients safe and healthy.  Below are the latest updates:
Do Not Enter the Client's Home — until this crisis has passed, we are asking our volunteers not to enter a client's home. This is for your safety and the safety of our clients. We understand the mobility challenges faced by many of our clients. Some clients are accustomed to yelling out "come in" when they hear you knock on their door. For now, clients are being told they must answer the door or they will not receive a meal for that day. If you come across a client who does not answer the door, call it in as a "no answer" and we will follow up with the client.Clients have been asked to place a small chair or TV tray just inside their door so that you can set down the meal.  Although we are asking you not to enter the client's home, you are encouraged to reach your arm through the doorway and set the meal down on the chair or TV tray.  After the client answers the door, please ask him or her to step back six feet to maintain a safe distance between the two of you. If the client's small chair or TV tray is too far from the door for you to reach without entering the home, please ask the client to move it closer to the door.We know that some of our clients are physically unable to come to the door. While our caseworkers visit our clients in their homes every four months, we need your help in identifying clients who cannot come to the door.  If you have someone on your route who physically cannot come to the door, please notify us by calling our main number at 817-336-0912. We will make special arrangements to care for those individuals.This may seem like an extreme measure to those of you who are accustomed to entering a client's home, opening their milk carton, and so forth.  Please understand that for now it is just too great a risk.  We must all do our part in adhering to recommended social distancing guidelines.Clients are being notified of this procedural change tomorrow, March 27th. Volunteers will be distributing a flyer to each client along with their meal.
Plastic Bags – even though a client answers the door, many of them will struggle to hold the meal(s) and beverages while using a walker or other mobility aid. To assist these clients, we are placing plastic bags in each cooler.  Feel free to take enough bags for your route. 

Once you arrive at the client's home

, put the meal in the bag, knock on the door, and hand the bag to the client with outstretched arms (ensuring you maintain a distance of 6′ between you and the client).  You may also ask the client to step back 6′ after they answer, and then place the bag on a TV tray or small chair just inside the door (do not enter the home).  If the client has not placed a TV tray or small chair just inside the door, you may ask the client to step back and then reach around and hang the bag on the

inside

doorknob without entering the home.
Two Meals Per Day — many of our clients rely on family members or friends for assistance beyond the noontime meal that we provide. We are now delivering two meals per day (a hot meal and a supplemental meal as noted on the route sheet) Monday through Friday to every client since many of the people who provide that extra safety net are being asked to stay at home.  As soon as this crisis is over, we will return to our normal meal-delivery schedule.
Hand Sanitizer – thanks to donations from the Mavs Foundation, Bendt Distilling Company, Blackland Distillery, and Acre Distilling Company, individual hand sanitizers are available at all distribution sites. Please take only one bottle per route to ensure we have enough for everyone who needs them.  Remember, you must sanitize your hands before and after each client interaction.
In closing, we want you to know how much we admire your dedication to our clients.  We understand that all of you are concerned with your own well-being and that of your families. Despite that, you show up every day because our clients are important to you.  Your spirit of compassion and service is why we always say Tarrant County is such a caring place to grow old.
Thank you!